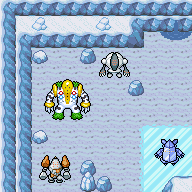 Regigigas' Domain is the eleventh Legendary Area available, unlocked by completing Spear Pillar. This map is completed by clicking 2,750 times.
Legendary Pokemon
Edit
Current chances are 1 in 6,726.
Regigigas
Legacy Regirock
Emerald Registeel
Sapphire Rotom
Common Pokemon
Edit
Abomasnow
Anorith
Baltoy
Cascoon
Castform
Cloyster
Corphish
Crawdaunt
Feebas
Gabite
Glalie
Gothorita
Hoothoot
Shiny Hoothoot
Kricketune
Lickitung
Magnemite
Mawile
Minccino
Nosepass
Nuzleaf
Panpour
Shiny Patrat
Sealeo
Shiftry
Silcoon
Slowbro
Slowking
Solosis
Swinub
Yanmega
Ad blocker interference detected!
Wikia is a free-to-use site that makes money from advertising. We have a modified experience for viewers using ad blockers

Wikia is not accessible if you've made further modifications. Remove the custom ad blocker rule(s) and the page will load as expected.