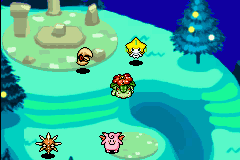 Moon Gaze Mountain is a Legendary Area. It takes 5,000 searches to complete. It is home to the bi-weekly Pokemon, which is currently Legacy Chimchar. 
Bi-weekly Pokemon
Edit
Once-obtainable Pokemon have arrived at March 6th, 2014. As their name suggests, you can only obtain one of each of these Pokemon by searching. Of course it is possible to gain multiple by trading. The first once-obtainable Pokemon, Crystal Smug Vulpix, was available for one week only, and the initial idea was to change the Pokemon every 1-2 weeks. The next available Pokemon have all been available for 2 weeks however, and thus the once-obtainable Pokemon have been renamed on August 10th, 2014 and were henceforth called bi-weekly Pokemon.
Past Bi-weekly Pokemon
Edit
Crystal Smug Vulpix
Sapphire Omega Mew
Golden Sparky
Golden Hoppip
Sapphire Eevee
Crystal Clefairy
Golden Ditto
Light Mega Aggron
Light Treecko
Crystal Dunsparce
Shiny Omega Lugia
Shiny Sparky
Light Houndour
Shadow Heracross
Crystal Luvdisc
Legacy Shuckle
Legacy Starly
Golden Snover
Legacy Minun
Legacy Spinarak
Random Pokemon
Edit
Like in any other map, there are random Pokemon that appear on the map, both common and uncommon.
Common Pokemon
Edit
Bastiodon
Blastoise
Bulbasaur
Carbink
Chansey
Charizard
Charmander
Clefairy
Clefable
Dewgong
Drifblim
Fearow
Fletchling
Golbat
Golduck
Golem
Goomy
Graveler
Gyarados
Haunter
Hawlucha
Houndoom
Houndour
Kadabra
Kingler
Lapras
Litleo
Machoke
Magneton
Ninetales
Onix
Parasect
Pidgey
Pidgeot
Pineco
Poliwrath
Poochyena
Rapidash
Raticate
Squirtle
Starmie
Venomoth
Venusaur
Victreebel
Wigglytuff
Uncommon Pokemon
Edit
Emerald Helioptile
Ruby Pineco
Sapphire Bulbasaur
Sapphire Hawlucha
Shadow Hawlucha
Emerald Slyveon
Shadow Goomy
Sapphire Goomy
Crystal Fletching
Silver Charmander
Sapphire Carbink
Ruby Noibat
Shadow Dedenne
Ad blocker interference detected!
Wikia is a free-to-use site that makes money from advertising. We have a modified experience for viewers using ad blockers

Wikia is not accessible if you've made further modifications. Remove the custom ad blocker rule(s) and the page will load as expected.