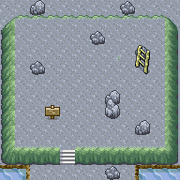 Mewtwo's Cavern is the sixth
Legendary Area
, unlocked by completing Mesprit's Lake. This map is completed by clicking 1,250 times. Sceptilite can be found here currently.
Legendary Pokemon
Edit
The current chances are 1 in 1,377.
Mewtwo
Crystal Virizion
Sapphire Awakened Mewtwo
Light Tornadus
Common Pokemon
Edit
Archen
Banette
Bronzong
Bronzor
Corphish
Crawdaunt
Eevechu
Elgyem
Gallade
Glaceon
Golett
Honchkrow
Honedge
Lickilicky
Magnezone
Mawile
Mienfoo
Nuzleaf
Phantump
Piloswine
Politoed
Pumpkaboo
Quagsire
Rhyperior
Rufflet
Shiftry
Shuppet
Slowbro
Slowking
Ad blocker interference detected!
Wikia is a free-to-use site that makes money from advertising. We have a modified experience for viewers using ad blockers

Wikia is not accessible if you've made further modifications. Remove the custom ad blocker rule(s) and the page will load as expected.