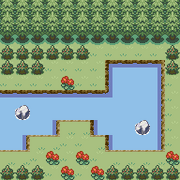 Mesprit's Lake is the fifth
Legendary Area
, unlocked by completing Groundon's Palace. This map is completed by clicking 900 times.
Legendary Pokemon
Edit
The current chances are 1 in 1,126.
Mesprit
Crystal Marlo
Sapphire Mesprit
Light Uxie
Common Pokemon
Edit
Basculin
Bergmite
Budew
Cherrim
Cherubi
Durant
Gulpin
Happiny
Horsea
Illumise
Jigglypuff
Klefki
Ruby Klefki
Kricketot
Kricketune
Mime Jr
Panpour
Roselia
Skrelp
Swalot
Tynamo
Volbeat
Vullaby
Wigglytuff
Ad blocker interference detected!
Wikia is a free-to-use site that makes money from advertising. We have a modified experience for viewers using ad blockers

Wikia is not accessible if you've made further modifications. Remove the custom ad blocker rule(s) and the page will load as expected.