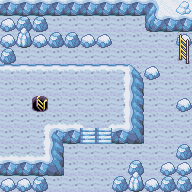 Manaphy's Haven is the seventh Legendary Area that is unlocked by completing Mewtwo's Cavern. This map requires 1,455 clicks to complete.
Legendary Pokemon
Edit
The current chances are 1 in 1,544.
Manaphy
Shadow Shaymin
Lighty Icy Shaymin
Dark Phione
Ruby Kyurem
Common Pokemon
Edit
Amaura
Golden Amaura
Basculin
Chingling
Drifloon
Feebas
Floatzel
Garchomp
Glalie
Goldeen
Hoothoot
Shiny Hoothoot
Mankey
Murkrow
Panpour
Psyduck
Purugly
Sceracross
Sealeo
Shellder
Shellos
Shuckle
Slowbro
Slowpoke
Dark Stunky
Turtwig
Vespiquen
Yanmega
Ad blocker interference detected!
Wikia is a free-to-use site that makes money from advertising. We have a modified experience for viewers using ad blockers

Wikia is not accessible if you've made further modifications. Remove the custom ad blocker rule(s) and the page will load as expected.