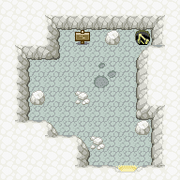 Kyogre's Temple is the third
Legendary Area
, unlockable by clicking 610 times in Entei's Tower. This map is completed by clicking 715 times. Abomasite is obtainable in this area currently.
Legendary Pokemon
Edit
The current chances are 1 in 667.
Kyogre
Shiny Kyogre
Light Terrakion
Common Pokemon
Edit
Alomomola
Basculin
Carvanha
Clamperl
Clauncher
Emerald Clauncher
Sapphire Clauncher
Corsola
Dratini
Feebas
Finneon
Frillish
Froakie
Goldeen
Hydreigon
Lotad
Luvdisc
Marill
Meditite
Panpour
Qwilfish
Dark Remoraid
Seephish
Shellder
Sneasel
Crystal Spritzee
Swirlix
Tirtouga
Shiny Tirtouga
Tympole
Ad blocker interference detected!
Wikia is a free-to-use site that makes money from advertising. We have a modified experience for viewers using ad blockers

Wikia is not accessible if you've made further modifications. Remove the custom ad blocker rule(s) and the page will load as expected.