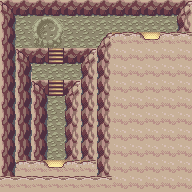 Great Volcano is the cheapest Legendary Area that is unlocked by buying in the Moon Shop, costing 1,500 Moon Points. The map is completed by clicking 2,500 times.
Legendary Pokemon
Edit
Current chances are 1 in 7,561.
Moltres
Dark Victini
Sapphire Genesect
Light Zekrom
Common Pokemon
Edit
Arbok
Aron
Charizard
Charmander
Clefable
Cyndaquil
Donphan
Duskull
Emolga
Gastly
Shiny Gastly
Joltik
Larvesta
Magby
Magmar
Misdreavus
Nidoking
Nidoqueen
Numel
Ponyta
Salamence
Sandslash
Slugma
Vileplume
Woobat
Ad blocker interference detected!
Wikia is a free-to-use site that makes money from advertising. We have a modified experience for viewers using ad blockers

Wikia is not accessible if you've made further modifications. Remove the custom ad blocker rule(s) and the page will load as expected.