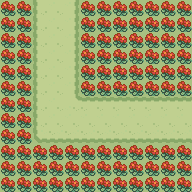 Eternal Garden is the eighth Legendary Area that is unlocked by completing Manaphy's Haven. This map requires 2,250 clicks to complete. Currently you are able to obtain Diancite here.
Legendary Pokemon
Edit
The current chances are 1 in 3,383.
Dark Yveltal
Dark Xerneas
Light Smug Vulpix
Silver Mega Latias
Shadow Icy Shaymin
Common Pokemon
Edit
Abra
Anorith
Archen
Baltoy
Banette
Bouffalant
Bronzong
Bronzor
Budew
Carnivine
Carvanha
Cascoon
Chansey
Chimchar
Cleffa
Corphish
Crawdaunt
Croagunk
Doduo
Drowzee
Eevechu
Feebas
Gastly
Gible
Girafarig
Glalie
Gulpin
Honchkrow
Hoothoot
Igglybuff
Kricketot
Lickitung
Magnemite
Meditite
Misdreavus
Noibat
Nosepass
Pachirisu
Panpour
Pansage
Pansear
Rufflet
Sealeo
Seephish
Shieldon
Shuppet
Silcoon
Snivy
Spiritbomb
Stunfisk
Swalot
Sylveon
Tangela
Tirtouga
Togepi
Dark Treecko
Voltorb
Vullaby
Yanma
Zebstrika
Ad blocker interference detected!
Wikia is a free-to-use site that makes money from advertising. We have a modified experience for viewers using ad blockers

Wikia is not accessible if you've made further modifications. Remove the custom ad blocker rule(s) and the page will load as expected.