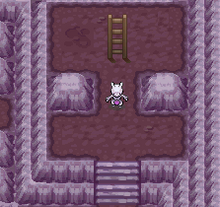 Deep Mewtwo's Cave is the twelfth and final Legendary Area that is unlocked without Moon Points, available when completing Regigigas' Domain. This map is completed by clicking 3,500 times. Steelixite is obtainable here currently.
Legendary Pokemon
Edit
Current chances are 1 in 3,383.
Shiny Awakened Mewtwo
Golden Mewthree
Crystal Omega Mew
Golden Omega Articuno
Common Pokemon
Edit
Aggron
Alakazam
Bastiodon
Chansey
Clefable
Clefairy
Cloyster
Dewgong
Shadow Dewgong
Drifblim
Fearow
Flygon
Golbat
Golduck
Emerald Golduck
Graveler
Gyarados
Haunter
Kadabra
Kingler
Lapras
Machoke
Magneton
Ninetales
Onix
Parasect
Pidgeot
Poliwrath
Rapidash
Raticate
Starmie
Venomoth
Victreebel
Wigglytuff
Ad blocker interference detected!
Wikia is a free-to-use site that makes money from advertising. We have a modified experience for viewers using ad blockers

Wikia is not accessible if you've made further modifications. Remove the custom ad blocker rule(s) and the page will load as expected.